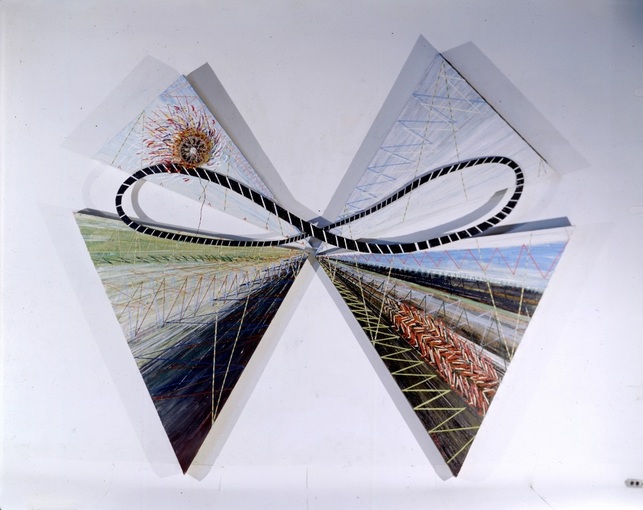 The Coaster and the Racer. Acrylic on 4 shaped canvasses with Bricollage. 1984. Done with support from the Athena Foundation. 9'h x 7' w x 5" deep.
---
MEMORY STRUCTURES. 1980-82
The Technology of the previous generation becomes the center of the art of
the next generation. Marshall McLuhan, Understanding Media
For a commission for AT& T Longlines in 1980, I proposed " Networks" which would have been 60 feet long.
Each colored shape represents a different center of communication .The multicolored strips were interpretations of telephone wire I often found in Soho, left over from work in buildings being newly wired for telecommunications.
t
he black and white square columns transform
information from each colored area as
they show the outside view of each colored shape in a flattened square tube.
Memory Structures, below was the work they ultimately commissioned.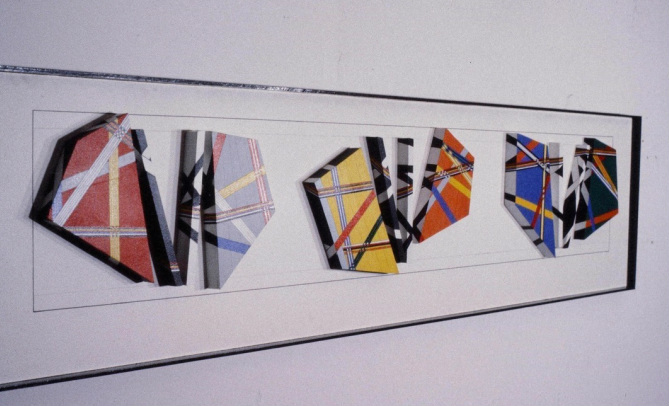 Networks. 1980s.. maquette proposal for AT&T Longlines commission. Collection Cleveland Museum of Art.
---
---