"An idea is salvation by imagination"
-Frank Lloyd Wright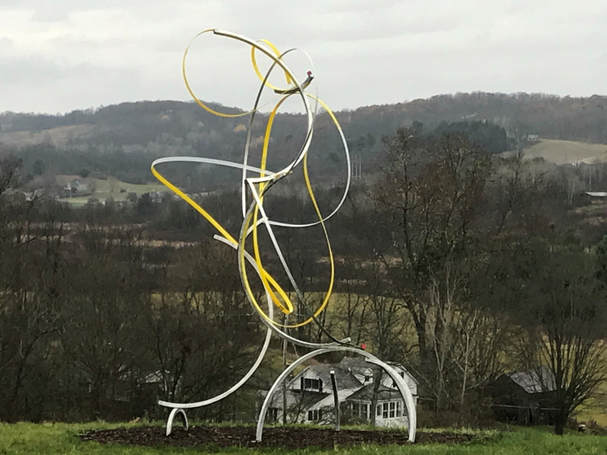 ---
Artist's Statement: I was a painter for many years, until 2015. Modern architecture has been a continual source of inspiration. The use of color was always a critical component of my work so I thought of myself as a painter, though my paintings were sculptural and dimensional. Early in my career I received fellowships through the generosity of George Rickey and Mark Di Suvero, which included studio space where I interacted with groups of sculptors. This work projected from the wall in
irregular shapes
, the sides were painted, and forms or objects were affixed. to the wall or a panel on the wall.
In 2015 I created
City Blocks ,
my first freestanding sculptures , which were shown at Gensler-NYC in summer of 2015, along with my
Urban Studies
paintings. I used the same approach I had used to make collages and
assemblages,
i.e. organizing and modifying selections of previously prepared materials. This approach continued into
architectural installations
which can be easily moved , modified or rescaled for installation in various sites. and can be produced in more permanent materials.
I try to use scale, geometric volumes, empty space and perspective to engage people in some of the ways that architecture does. In
Froebel's gifts
I explored scaling up a single wood model, into solid aluminum, and then made modules to work with, of larger wood, 3 D prints and eventually 42" welded aluminum modules for a 16' tall commission for the Kenner Sculpture Garden in New Orleans.
I feel as though my approach to painting led up to these colored three dimensional works. I now view all my paintings through the lens of sculpture and see themes, forms and structures I want to develop in three dimensions.
As in my paintings , I use scale and perspective to present contrasts between balance and precariousness, stability and dynamic tension. open space and clustered forms, perpendiculars and tilted planes one sees in landscape or portrait format.
I invite you to explore different parts of this website and
send your comments
.