Slides paintings 2007-2009.
contact
During the years preceding these paintings I was unable to focus on my work, as I was raising my teenage children and caring for my elderly mother who had developed dementia. After her death I slowly got used to being in the studio again. I experimented with old themes and developed new ideas.
Using freely flowing paint sliding over a slippery surface and improvising painting tools I felt my creative energy return as I developed these images while thinking about time and synchronicity.
The Slide paintings began with the painting immediately below, when my arm slid a sponge laden with paint across the smooth surface of a large canvas I had reprimed..... one which my 6 year old daughter had "helped" me with 10 years earlier.
​I like this painting because the earlier endeavor is part of its history and contributed to the loose gestural approach.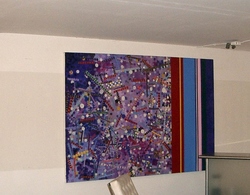 Paintings :1994-1997
Circles appeared in my work only rarely before I became a mother.
Previously a vertical column or stripe was the most persistant form in my work,, as it symbolized the figure to me. If I used a horizonal line it represented the landscape. As a mother of small children I found that circles reminded me of my children's little round heads, and also suggested bubbles. balls, hula hoops, play, and movement, all part of childrearing. I explored circles first in collages , then in paintings, then in
3 dimensional works
made from recycled toys and dollar store purchases.
---