Vivien Collens with Froebel's Gifts: Energized cube , 2017,
commissioned for the permanent collection of the Kenner Sculpture Garden in New Orleans.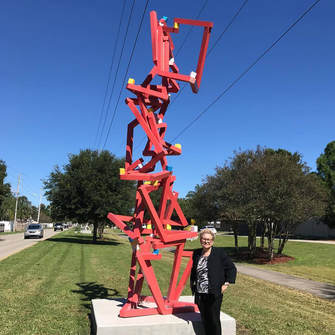 Froebel's Gifts: Energized Cube. 2017. 16' x 4 ' x 4', welded aluminum. Kenner Sculpture Garden, New Orleans.
My first site -specific public sculpture , below, was installed in the Cary Hill Sculpture Park in Salem , New York in July 2017.
It was created with the support of Salem Art Works.
​


video: a short walk around Kenergy


---
Lines of Inquiry. Solo exhibition at Suny Orange, Newburgh through Oct. 15, 2017. Reception Oct. 3, 4:30-6:30 pm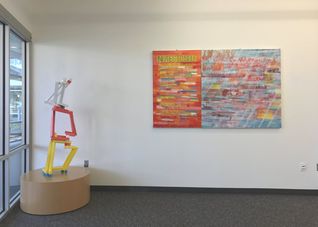 ---
Recent painting and sculpture. Chris Davison Gallery at Regal Bag Newburgh, NY. May 5-May 21, 2017
Sculpture Only, Chris Davison Gallery at Regal Bag, Newburgh, NY. March 18 - April 01, 2017
Echo Spectrum, Trestle Gallery, (pictured below) Brooklyn, NY Feb. 24- March 24, 2017
Sideshow Gallery, Brooklyn, NY Jan 8-Feb. 26, 2017
​Surface Tensions. 215 W. 125 st, NY, NY ​ June 2016 -Feb, 28 2017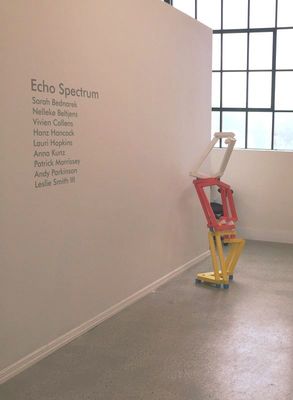 Triple Duet, 2017 sculpture in entrance to Echo Spectrum exhibit at Trestle Gallery