FROEBEL'S GIFTS contact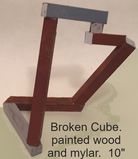 Friedrich Froebel was the founder of the modern kindergarten in 1840. He designed basic geometric wooden forms (sphere, cube, cylinder, pyramid) for children to play with, believing it would increase their ability to think abstractly. I read that Frank Lloyd Wright played with these as a child. My feeling is that these toys, and a child's experience of playing with them, form the foundation for modern architecture, which inspires my work.
In 2016 I made Broken Cube, a 10" H wood maquette, and and then made multiple wood enlargements of it. I also made it larger in aluminum , and as smaller 3D prints, 5" high. I had discovered that I could use it as a module to create a variety of interesting structures to which I had various associations.
It fascinates me because of the way it frames the space beyond it, and how different it looks from each side. The different angles of the square beams' positioning cause the color to change as the light hits from different angles, or reflects one section onto another.
I began with installations but then began to fasten the components together to make a permanent sculpture. In more recent works I am exploring triangles and folded diamond shapes . as in Bejewelled , below.
---
---

3 rough aluminum prototypes of Broken Cube, enlarged from a wood maquette.