FROEBEL'S GIFTS contact

Froebel's Gifts: energized Cube. 16' H. Kenner Sculpture Garden, New Orleans. detail looking up at top.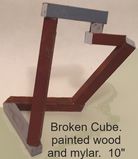 " To Froebel belongs the credit for finding the true nature of play and regulating it to lead naturally into work. The same spontaneity and joy, the same freedom and serenity that characterise the plays of childhood are realised in all human activity. The gifts and occupations are the living connection which makes both play and work expressions of the same creative activity. " W N Hailmann
Friedrich Froebel was the founder of the modern kindergarten in 1838. He designed basic geometric forms (sphere, cube, cylinder, pyramid) for children to play with, believing it would increase their ability to think abstractly. Learning that Frank Lloyd Wright and Buckminster Fuller played with these as children stimulated me to create Broken Cube (pictured on left) an assymetric geometric module that could be used for building large structures.

Above are 5" High 3D prints of Broken Cube, made with support from Hudson Valley Advanced Manufacturing Center, by scanning the original 10" module on the top left of the page.
Broken Cube fascinated me because of the way it frames the space beyond it, and how different it looks from each side.
The different angles of the square beams' positioning cause the color to change as the light hits from different angles, or reflects one section onto another.
​ I discovered that the module could create a variety of interesting structures to which I had various associations.
​ I began with installations of stacked or lined up modules, but then began to fasten the components together in different formations.
In later works I explored triangles and folded diamond shapes . as in Bejewelled , below right.
---

Linear installation of Broken Cube modules
---
Froebel's gifts: entwined geometries
relief painted wood wall sculpture.