JUST FOR FUN. ASSEMBLAGES. 1992-95. ​
contact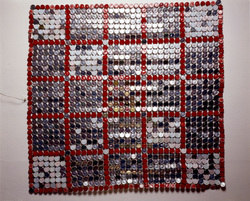 These were done while my children were very young.
Baby's Comforter, left, is made of baby food jar tops.

​
The structures below were made from recycled toys woven into structures made of hula hoops, plastic mesh, and colored wire. Dollar stores had just begun opening in the early 90s, and the delightful array of inexpensive colored plastic objects augmented my collection of abandoned toys.
---
Small constructions: Second Penetration Series. 1975-77. Acrylic and canvas on Wood.
---